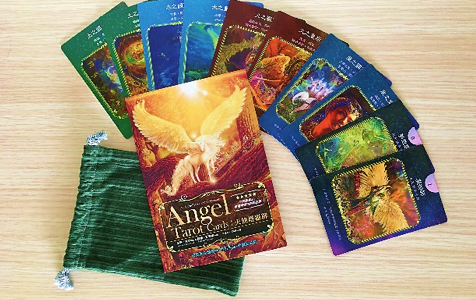 Deck: Angel Tarot Cards
Authors: Doreen Virtue & Radleigh Valentine.
Artwork © Steve Roberts – www.fineartamerica.com.
Photographer: Tristen Churn, thank you.
Angels consist of your personal Guardian Angels and the Archangels who are powerful messengers and healers of the Divine. Your personal Guardian Angels and the Archangels are always available to help you with your life. They are so good at helping you when you simply ask for, believe in and graciously receive their guidance. In general, Angels will not interfere with your life without your permission and they will never intervene your freedom of choice.
Angel Tarot Card Reading offers you an alternative view to tap into the understanding of yourself, clarification of decisions and wisdom of handling everyday problems. Angel Tarot deck is a very powerful and useful tool to help you reflect upon your emotions and thoughts, as well as providing illumination and broader understanding into your life aspects.
In this session, you will expect to receive loving guidance and healing insights from the Angels as they speak from the space of love and compassion. Please keep an open mind to recognise and learn potentials and possibilities that may happen in the flow of your life. Trust that when you are drawn towards this reading session, it happens for a reason on the unfolding of your beautiful life path.
Your life will not be the same once you discover their ultimate guidance!
Available both ONLINE & FACE-TO-FACE:
Please follow your heart to book this online one-on-one consultation based on the time slot availability by sending a text to us via this link:
For ONLINE CONSULTATION:
After securing your booking, we will furnish our local banking information to you for payment process. Do take note that any cancellation for paid consultation and refund of fee WILL NOT BE ENTERTAINED. But, under sufficient reason and reasonable consideration, you may opt for a change of time slot or transfer the paid consultation to another beneficiary (as in a real person).
Preparation
If available, please gather and cleanse your crystals for consultation purpose.
Do prepare some essential oils (if you have any) to apply them on your skin.
Grab some cushions and a pillow, prep a quiet and comfortable space for you to sit or lie down during your session.
After making the payment, we will furnish you a private meeting web link under Google Meet. Please visit the website of Google Meet to understand simple functions of the meeting room. Five minutes before the scheduled time of your session, sign in to your existing Google account, click the web link and join this session via any web browser.
Kindly run a check on your internet connection, bandwidth and data plan to avoid any form of disruption. For a better internet streaming experience, use a pair of quality earpiece and employ a tablet, laptop or computer with a big screen and switch on the functions of the microphone and camera.
Energy Exchange (Fee):
(Ringgit Malaysia) RM 330.00 (90 minutes)
(Ringgit Malaysia) RM 440.00 (120 minutes)